Fastest Web Browser for Windows (7/8/10), Mac and Linux
There are so many browsers available on the market nowadays. There are the mainstream browsers like Firefox, Chrome and Internet Explorer. There are also smaller players like Opera, Maxthon and so on. One can't help but wonder which one is the fastest browser for Windows 7, 8, 10, Mac or Linux. When people talk about speed, people usually focus on the raw performance of the rendering engine and often talk about some benchmark scores. Well, engine performance and benchmark scores are certainly important. However, when it comes to speed, it also means doing things in a more efficient way, i.e., skipping things that are really necessary. Also, you can also help people achieve higher online productivity by doing more things automatically.
When all the factors, i.e, engine performance, usage efficiency and level of automation, are combined together, we think Slimjet is the fastest browser among all the browsers running on Windows platform. We will simply list the facts and let you make an informed decision by yourself.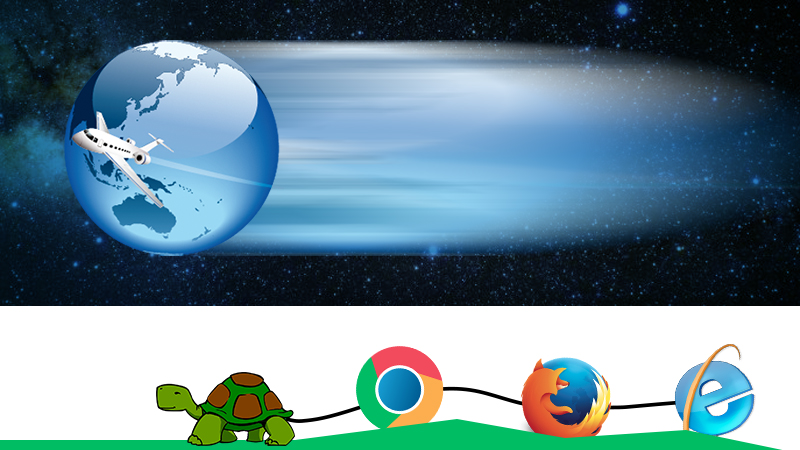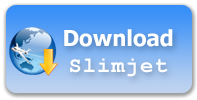 Tired of all those ads that are distracting, slows your system and wastes your time? You would have to live with the ads in other browsers or install some third-party ad blocking extensions. In Slimjet, a high-performance is already integrated for one-click activation. When the ad blocker is activated, 99% of the ads are completely eliminated before they are downloaded or become visible. It not only saves you a lot of eye pain, but also frees up your system for wasting resource on downloading and running those ad components. For some ad-rich sites, the built-in ad blocker can speed up the loading of the pages by many times. Since the ad-blocker is built into the browser, it runs faster than any other ad-blocker extensions available on the market. Therefore, it provides a lot of savings in terms of memory, bandwidth and CPU while costing very little overhead.
Most of the other browsers only offer a primitive download manager which download files from the servers using only a single connection. Slimjet includes a turbocharge download manager which can use up to 12 concurrent connections to download files from the server. Therefore, it can boost file download speed by up to 12 times.
If you are a fan of sharing photos online, you would know how slow it is to upload a high-resolution digital photo. The truth is, you don't really need that much resolution when sharing the photo online. 2M pixels are enough for a monitor with 1080p resolution. Slimjet comes with a unique instant photo uploading feature which automatically compresses photos to a web-optimized resolution before uploading the file. Powered by such technology, uploading photos are usually 10 to 20 times faster. Upload a single photo usually takes a few seconds instead of a couple of minutes.
Most of the other form fillers and password managers available in other browsers do no more than filling user name and passwords. You still have to open the page yourself and submit the form manually. In Slimjet, the built-in QuickFill form filler lets you save the page link, form data as a single form file, just like a bookmark. When you access the form file later on, Slimjet will automatically open the page, fill in all the previously saved form data and submit the form automatically. All the three steps are performed continuously without user intervention. If you have a lot of online accounts, QuickFill can really save you a lot of time.
5. High Performance Rendering Engine
Slimjet is powered by the high performance Blink engine, the same engine used by Google Chrome. Ever since the Blink engine is forked off the webkit engine, the guys at Google have made tons of improvement to the Blink engine so that it has become the best rendering engine in terms of performance and security. Firefox uses a single process architecture for all the tab processes and couldn't really make full use of the numerous cores available in modern processors.
The Blink engine is also particularly designed to make sure there is little delay with every UI operation, which makes Slimjet the most responsive browser among all.
If you like sharing the sites and images you come accross on Internet, sharing them to your friends on popular social networking sites couldn't be faster in Slimjet. All the popular social networking services are just a single click away. You don't have to open facebook first, copy over the text, image or link and then post it manually. All that is taken care of automatically in Slimjet.
Browser Speed Comparison
| Features | | | | |
| --- | --- | --- | --- | --- |
| Built-in ad blocker | Huge performance boost! | | | |
| File download speed | Up to 12x with multiple connections. | 1x with single connection. | 1x with single connection. | 1x with single connection. |
| Form filler | Fill login and identity information. Automatic page navigation and form submission. | Basic password manager | Fill login and identity information. | Basic password manager |
| Photo upload speed | Up to 20x | 1x | 1x | 1x |
| Video downloader | 10x speed | | | |
| Social network integration | One-click sharing | | | |
Enough Said. You will have to experience yourself to believe it!
Download Slimjet, the Fastest Web Browser for Windows and Linux for Free!

Related FAQs
Which Browser should I Use for Fast Speed?
To fetch more content, more searches, more communication on internet, all you need is a greater browsing speed. While Opera is prospering as a quick web program that makes your web experiences a breeze, for others the benchmark numbers support Google Chrome and Firefox. But for those who are looking forward to an extra ordinary option, with extreme engine performance, usage competence, and level of mechanization, Slimjet is your answer. Being a one stop solution, it is the quickest browser running on Windows / Linux platform. It has plethora of features inclusive of automatic ad-blocker, fastest downloading speed, and high performance blink engine.
Where can I Find and Download Quickest Browser?
Make an end to your search with the rapidest browser ever, which includes a turbocharger download manager that helps one to download files from the server using a single connection. Having 12 times better speed than any other browser, it allows you to upload any image with high resolution and do much more in matter of seconds. Slimjet comes with unique features which amplifies uploading speed upto10-20 times.
How can I Make My Existing Browser Work Faster?
Whether you are trying to finish an assignment or busy with some deadlines, the slow running browser needs can be improved by some simple steps:
Clear your browser cache, inclusive of your temporary internet files, cookies, browsing and download history, form data, etc.
You can also opt for intensive cleaning by deleting the usage history tracks on Windows.
Remove the unwanted add-ons extensions.
Or just simply replace the current browser with Slimjet. It is quite easy to do, just click scroll above and click the download button
How Browser Speed Comparison is Carried Out?
Basically, the speed comparison is carried out on the basis of features. Well, the good thing is that Slimjet scores really high when it is about security, speed, and performance. There are number of standard metrics which can be used to determine the excellence of a browser and some standards-based compliance tests, which Slimjet qualifies. When compared with Chrome, Firefox, Internet Explorer, or Opera, Slimjet comes out to be the fastest browser which can withstand for long, giving all the benefits that mainstream browsers offer.
Related Links
Add Comment
Comments
No comments yet.