Instant Photo Upload
Do you have a hobby of sharing photos online every day among your circle of friends online? Nowadays photos are usually taken with cameras with 10M Pixels or higher. The size of the photo files are usually 5MB or larger. It will about a full minute to upload a single photo. If you have a lot of photos to upload, the waiting time can be quite long.
Slimjet can dramatically cut down the time taken to upload photos by automatically compressing the photos to a reasonable resolution for web-sharing purpose before uploading the photos. You need a high resolution to print photos on a large sheet. However, when you share photos online, usually only 1M pixels are enough due to limited resolution of most monitors. In addition to resizing the image files, Slimjet also does better compression of the image files for the same resolution with hardly discernable information loss. For most photos, the image files are 10x to 20x smaller after applying automatic compression. You will need only a few seconds to upload most photo files.
The target resolution for automatic compression is customizable by users on a per-domain basis so that users can either save more time or keep more resolution in the image files based on their personal needs.
Here is a screenshot of the photo shrinking settins dialog,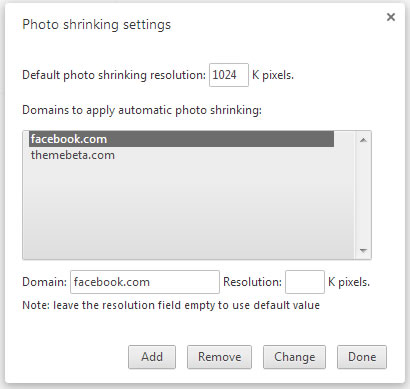 Add Comment
Comments
No comments yet.