Google Chrome Older Versions Download (Windows, Linux & Mac)
Why use an older version of Google Chrome?
Google only provides an online setup file for Google Chrome which installs the latest version of Google Chrome. It happens frequently that a user upgrades to a new version of Google Chrome and gets upset by an unpleasant feature, a missing option or an annoying bug. Therefore, some users want to roll back to an older version of Google Chrome to preserve a useful feature, option or support some legacy technology. However, is it really wise to use an out-dated verison of Google Chrome? The answer is NO since out-dated browsers usually come with security issues. A better solution to the problem is to use Slimjet browser, which runs on the latest Blink engine while offering more flexibity, features and options compared with Google Chrome. With Slimjet, we give users more choices to tune their browser to their own personal preference instead of forcing a majority style on everyone. Slimjet also integrates more features internally in the most efficient way so that you don't have to spend time dealing with unstable and resource-consuming third-party plugins. Best of all, Slimjet syncs all your Chrome data and settings via your Google account and is compatible with your favorite Chrome extensions. There is absolutely no learning curve for you to switch from Chrome to Slimjet. Give Slimjet a try now and you will never look back!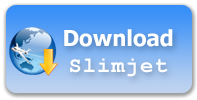 For users who insist on using an old version of Google Chrome and becoming vulnerable to security issues, you can find the right version of Google Chrome to download for your platform in the following sections.
Support of Java, Silverlight and NPAPI plugins
Unfortunately, we only started to archive old versions of Chrome since Chrome 48. Chrome dropped support for Java, silverlight and other NPAPI plugins in Chrome 45. If you are looking for an old version of Chrome with support of Java, silverlight or other NPAPI plugins, you would have to use Slimjet Web Browser, which is based on Chromium and retains support of Java, silverlight and other NPAPI plugins.
Google Chrome Windows version
The old versions of Chrome before V58 are packed as 7zip self-extracting executable. Just run the executable and extract the files under any folder on your hard drive. Then launch Google chrome with chrome.exe under the extraction folder. After V59, the archived chrome old version files are official Chrome offline installers. Just uninstall any current version of Chrome first and then run the downloaded installer. It's a one-click installer without any interactive UI.
32-bit
64-bit
Support of XP and Vista
Please notice that Chrome dropped support of XP and Vista since Chrome 50. If you are using XP and Vista, please download Chrome 49 or earlier, or download Slimjet Web Browser, which is based on Chromium and continues to support XP and Vista.
Google Chrome Linux Version
64-bit deb for Ubuntu/Debian
32-bit deb for Ubuntu/Debian
Note: Google Chrome stopped release 32-bit builds for linux since Chrome 49. If you are still using 32-bit linux and would like to be protected with the latest security patches as well, you can use Slimjet Web Browser, which is based the Chromium open source project and continues to support 32-bit linux.
Google Chrome Mac Version
Related FAQs
Why You Need An Older Chrome Version?
Sometimes it can be just because you don't like a new update or the new version of your preferred browser. Different people have different reasons, for example, developers don't like the placement of tools and in other cases the favorite extensions might not appear so useful. In such circumstances, all you need is the same previous version. In case of Chrome, though Google doesn't provide you with any Source) to download older versions of Google Chrome, but if you are really comfortable with those you don't need to disappoint. Slimjet offers you all older version under one roof.
How do I Rollback/Revert to the Older Version of Chrome?
Google do not support any rollback to the previous versions of Chrome. But that doesn't mean, you cannot get the one. Yes, there is a simple way out to get previous version. Just uninstall your present adaptation, erasing each user's saved profile information, and then re-install the needed version. Here it is important to note that user may lose their bookmarks, history, and so on. Hence, be careful while you proceed with the same.
Where can I Download and Install Older Versions of Chrome?
Now getting and downloading the prior versions of Google Chrome is possible. Slimjet share the old versions of Chrome, packed as 7zip self-extracting executable file. Download the one you need, run the executable and extract the files on your hard drive. Simply launch Google chrome with chrome.exe under the extraction folder. You can scroll above for different versions, available in 32- bit and 64- bit.
How to Download and Install Earlier Version for Windows, Linux and Mac via Slimjet
We have made a video to help you and you can watch the step to step process here:
How do I Know what Version of Google Chrome I have installed?
You might need this information for varying reasons, but often people consider it important to check for whether they need an upgrade or not. So, if you are looking for way out to determine what version you're running, just visit the 'About' page for each browser. Click the Menu icon (≡) in the upper right corner and take the cursor on "help". The first option "About Google Chrome" will let you know the same.
Related News
Add Comment
Comments
(42)
Topic
:
google-chrome-old-version.php
Rekha
says...
wants to install chrome 30
16th August 2018 11:40am
name
says...
thank you, my cancer has been cured
28th July 2018 10:16am
Jhony
says...
Very goood. Thank you
19th July 2018 11:28am
Mark
says...
Trying to install Chrome 49. The EXE file does not work. It says, "No a valid file." I guess this site is no longer updated. Should it be taken down?
8th July 2018 12:17am
Stephen Fox
says...
Mark, please download the final version of Google Chrome for Windows XP from my website. It is version 49.0.2623.112.http://sdfox7.com/xp/sp3/EOL/chrome/ChromeStandaloneSetup.exe
22nd August 2018 12:14am
Sandi
says...
Which is compatible with Android? It seems that these are the versions for desktops/ laptops. I could be wrong, but I would appreciate any help.
7th July 2018 10:28am
zahra
says...
Hhello.
which is the best version of chrome on slimjet archive that i can install?
and how can i avoid installing flash player and how can i disable multiprocess feature?
does slimjet and chromium also enable and support multiprocess feature by default?
thanks for your help, God bless you all!
3rd June 2018 10:52am
Robert
says...
pretty good
17th May 2018 9:28am
Nicole
says...
pretty good
29th April 2018 5:18am
Nicole
says...
pretty good
29th April 2018 5:18am
Gary Dean
says...
For old iPad 2
27th April 2018 10:41pm
Sam B
says...
Thanks a million this helped me a lot , I downloaded Chrome 48.0.2564.97 and had to use it on a Win XP machine where IE was infected by a malware and never loaded internet connection. Chrome worked perfectly. Many thanks !
24th April 2018 8:54am
Stephen Fox
says...
Sam, to ensure you have the latest version, please download the final version of Google Chrome for Windows XP from my website. It is version 49.0.2623.112.http://sdfox7.com/xp/sp3/EOL/chrome/ChromeStandaloneSetup.exe
22nd August 2018 12:19am
melewa
says...
to stop chrome auto update,
just edit folder Update permissions so chrome can't add any files in it.
even if you can't find this folder make it then edit its permissions
at most cases you can find it here "C:\Users\YOUR_PC_NAME\AppData\Local\Google"
29th March 2018 10:40am
russian
says...
That's bad way to disable updates. It will still load files and use network. Better is to create policy which blocks updates (on Windows OS). In Linux based OSes, Chrome doesn't auto-update.
22nd June 2018 4:49am
Cheron
says...
The easiest way to disable automatic Chrome updates is by going to System Configuration, then Services Tab and disabling Google Update Service (gupdate) and Google Update Service (gupdatem). I would recommend that because God only knows what update they will do it in the future.
Yesterday 6:47am
Deepak Jha
says...
Good work Man , Thank you so much
27th March 2018 3:08am
Stephen Fox
says...
It's been a year, so I'm just reposting:If you need the final Google Chrome 49.0.2623.112 version released for XP and Vista, I have it archived here: http://sdfox7.com/xp/sp3/EOL/ChromeStandaloneSetup.exe
17th March 2018 10:28am
Karen
says...
Chrome recently stopped working on my computer. It freezes at the point where it's uploading, then just goes away. I uninstalled it and used this... http://sdfox7.com/xp/sp3/EOL/ChromeStandaloneSetup.exe...
to reinstall it. Unfortunately, I have the same problem with it not progressing at the upload screen. Any ideas how to fix?
Thanks,
~Karen
27th March 2018 11:07am
Stephen Fox
says...
Karen, thousands of people have used my Google Chrome link with no issues, are you sure you have Windows XP Service Pack 3 (SP3)? If you don't you can download it from my site here:http://sdfox7.com/xp/sp3/windowsxp-kb936929-sp3-x86-enu.exe
22nd August 2018 12:16am
Евгений Evgeniy
says...
Thanks a lot! I've got Chrome 56 version - it is last version that has "chrome://plugins" thing which is best for Flash Player settings (next versions have Pepper-Flash which is disgusting). And it still works well with lots of most popular Internet pages (at this day). I hope it works forever and these Google programmers don't make troubles for us. Otherwise I go to other browsers, even Internet Explorer maybe.
10th March 2018 11:16am
Volkan
says...
Hi guys,I need your helps.. I'm using Mac os x 10.6, I download old chrome to my mac but download files coming as textedit..how can I run it?
10th February 2018 3:16pm
MacUser
says...
Use Chrome version 49.0.2623.75 (available here or at enuptodown). Add the Adguard extension and enable its malware warning.
19th February 2018 6:54am
Rick
says...
I thought this was a god send But after only 12 days Browser crashed cost me most of a day trying to load chrome back now missing key parts & Spybot S&D locked out all my other browser What happened running old xp pro sp 3 tried to end updates then got server error 500 What can a person do ?
3rd January 2018 5:49pm
MacsRule
says...
1. Use the newest version of the Chrome browser that your OS will allow. Try enuptodown if you cannot find it at slimjet.
2. Add the Adguard extension and turn on its malware site protection.
3. If the browser still fails, just buy an iMac. My models are up to nine years old and still use a 2009 OS!
13th January 2018 12:03pm
Paul
says...
Thx for keeping this around! Chromedriver broke in automation setup for my work and it was latest Chrome that did it out of environment. Definitely will give Slimjet a try on my personal machine(s).Thanks again!
3rd January 2018 2:57pm
Shahriayr
says...
Excellent service! It's a pity that open-source looking Google Chrome has doesn't want revert backwards its version, some say securtity but what about developer side? anyways, this is one of the few websites sharing offline Chrome installers, that is what so amazing! also, be sure to disable Chrome updates from Group Policy, Registry and should also reset CLSID to zero in "Help, about Chrome" which will ask for privileges and if succeds elevation can UPdate. I also added
... Read More
26th December 2017 11:44am
jeff i think
says...
cuuuuuuu88uuidj9-
17th December 2017 9:01pm
kumar
says...
tq
16th December 2017 10:23am
user
says...
no comment
15th December 2017 6:07pm
Mike
says...
THANK YOU THANK YOU THANK YOU
5th December 2017 8:46am
Sam
says...
Thanks for posting old version of chrome browser. It is really helpful for my Organization.
30th November 2017 7:23am
Johnny mann
says...
I have an iPhone and would like to know which older version of google earth I can download and know where I'm at even if I have no internet connection. Please email me at
jmann@lysd.com.
Thank you johnny
10th November 2017 6:35pm
SemiTechie
says...
JohnnyMann, just Google "en.uptodown iphone google earth old", then determine the newest available version of Earth that your iPhone will accept. For an answer to your other question, Google "locate iphone even when offline".
18th November 2017 6:38am
Julie Golemon
says...
I have a desktop pc with windows vista that i,m trying to figure out how to get Google web browser to access internet wifi using a usb wifi adapter. when connected to wifi, when I try to search through Google chrome browser, it says it can't because there aren't anymore updates for that program for win vista home edition. Can u help me.
5th November 2017 12:51pm
Semi-Techie
says...
Julie Goleman, I cannot speak for your OS, but I am successfully using Chrome with an ancient 2009 Mac OS. You have to determine which is the most recent Chrome version that your OS will accept, as I did. The latest version for my 2009 OS was released in 2016, so it should be usable for years to come. You do not need updates, assuming that you take common sense security precautions. You can use slimjet or en.uptodown to download older versions of Chrome. The latter offers the most versions.
8th November 2017 8:26am
UncleGus
says...
To get linux 64bit version 60:wget https://dl.lancdn.com/landian/software/chrome/m/60.0.3112.90_amd64.deb
29th October 2017 8:34pm
M
says...
Deb-package for 60th version is actually for 61 version in spite of correct naming.
15th October 2017 7:05am
AdmiredAfar
says...
I can't find the password for my file and it's asking for one to enter to continue the download
11th October 2017 4:15pm
AdmiredAfar
says...
I downloaded one and it is asking for a password. Do not see a password listed anywhere. But I am a skimmer when I read so I could have missed it.
11th October 2017 4:12pm
Stephen Cheng
says...
It is not supposed to ask for password. Which version did you download?
11th October 2017 6:30pm
MacFan
says...
Note: en.uptodown also has these and other versions.
21st September 2017 7:21am

RSS Alerts