QuickFill Form Filler
Chrome comes with a basic password manager, just like the one available in IE and Firefox. We have implemented a more advanced form filler branded as "QuickFill" in Slimjet. Here is a brief comparison between the default password manager and QuickFill:
| | | |
| --- | --- | --- |
| | Default password manager | QuickFill Form Filler |
| Data saved | Save only user name/password | All the data in a given form |
| Open Saved Page | No | Yes |
| Auto-Fill | Yes | Yes |
| Auto-Submit | No | Yes |
| Password Protection | No | Yes |
The default password manager saves only the user name and password in a login data. QuickFill saves any data in any form. For example, you can fill in a lot of information in a long application form. You can save it to a form file and finish it later. Next time, you open the same form in Slimjet, the saved information is automatically populated back into the form.
The default password manager fills a login form automatically when you open a page manually. After that, you have to submit the form manually. With QuickFill, you can select from a saved form file from the QuickFill menu. After that, Slimjet will open the original web page containing the form, fill in the saved form data and submit the form automatically without further user intervention. QuickFill lets you log into your favorite online accounts in the truely most effortless way.
The default password manager doesn't provide password protection. Anyone can fill with your saved passwords as long as they have access to your computer. With the right tool, they can even view the passwords. In Slimjet, all the saved forms are protected with a single master password. You will have to enter the master password in order to use the saved forms. However, you can choose to stay signed in for as long as you want and sign out whenever you want to strike the right balance between convenience and security.
Here is a screenshot of the QuickFill form filler in action: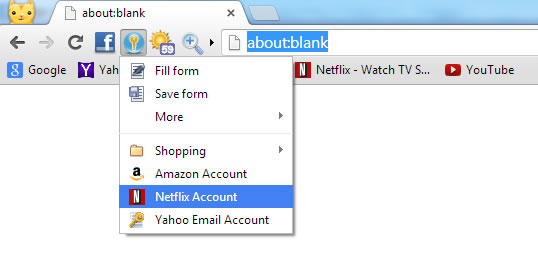 Add Comment
Comments
(1)
Jack
says...
WHERE OH WHERE DO i FIND IT? lOOKED AT WEBSTORE, LOOKED IN SETTINGS? NOPE.
14th September 2023 10:48am

RSS Alerts