Sharing on Facebook from Slimjet
With the Facebok integration support in Slimjet, sharing your online activities on facebook has been never easier. When you visit an interesting website and would like to share it with your friends on facebook, all you have to do is click on the Facebook button on the navigation toolbar. You will get a small popup window as shown below.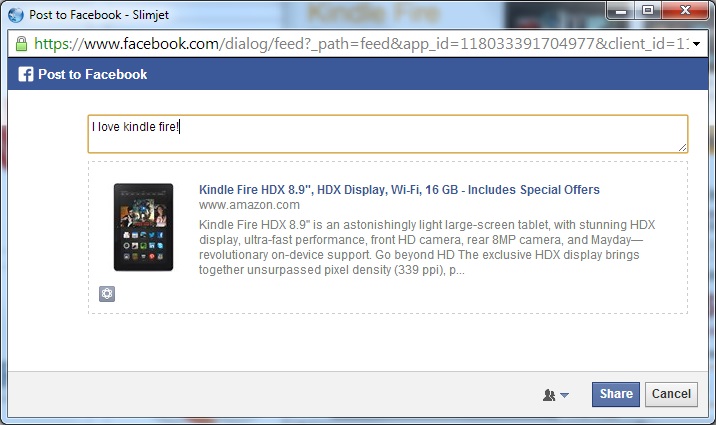 You can add some personal comments if necessary. After that, click the "Share" button to instantly post the link on your facebook wall.
If you would like to share a passage of text on the visited page, simply select the text with mouse first and then right click on the selected text. After that, select "Share on facebook" from the selected menu as shown below,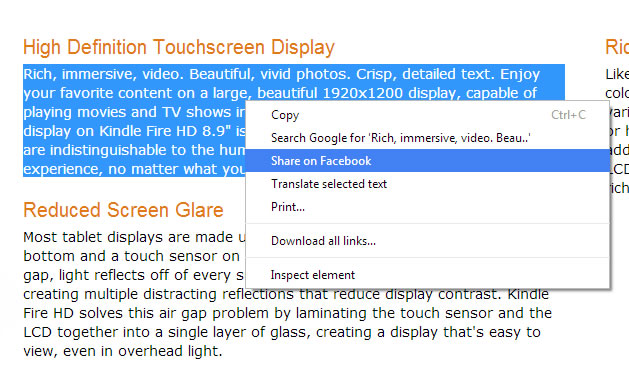 What's more, you can even share an image from the visited page on facebook. All you have to do is right click on the image and select "Share on Facebook" from the popup menu.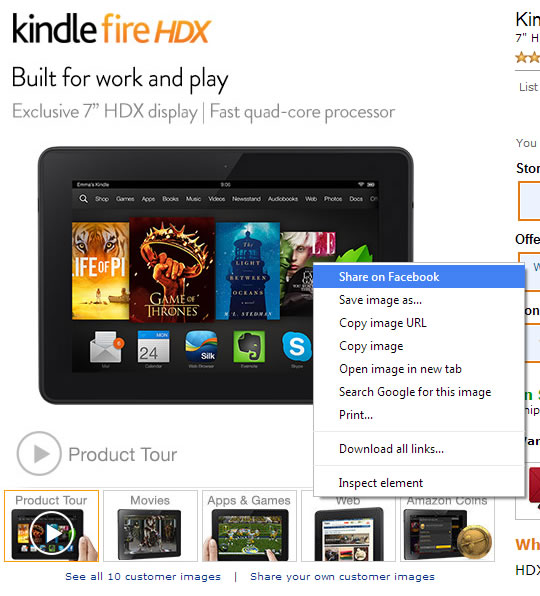 Add Comment
Comments
(4)
Topic
:
facebook-share.php
Peeved User
says...
I've lost count of how many times I've accidently hit this atrocity of a menu item now... Please, give us the option to remove this awful link! I don't use facebook, and never will. All because they are one of your fave things to link to, doesn't mean we should all have to endure a totally useless and unwanted link, right where it is always in the way. Make it optional... I'm not asking for forced removal, because that would be as bad to some, as having it shoved down our
... Read More
20th March 2022 7:18pm
MyOwnMind
says...
Time to switch to a better browser. SlimJet was okay before they started forcing people to use unwanted features. Probably got a big chunk of cash from Mark Derperburg to through this 'feature' in there. Since you can't remove it, here's your other option:
https://alternativeto.net/software/slimjet-web-browser/
17th October 2021 2:20pm
hrider
says...
Claiming that you are freeing from the clutches of Google, are you making the users the slave of Facebook. How do I know your "Share on Facebook" integration is not reading and sending data about what all I am browsing through? Are you complying with the GDPR and other international privacy policies?Please remove "share on Facebook" integrated feature and instead you can provide it as an extension that could be removed.
8th September 2021 9:46pm
Johnny Don
says...
Please remove or add a possibility to customize right click options, share on facebook being above "open in a new tab" is extremely annoying and is the only reason why i keep quitting using your browser, only updating it to check if you finally removed the share on facebook option ... 2nd: why can't we fully customize the new empty tab, i want to have it dark themed, but there is a MUST minimum of 4 big white squared links, can't disable it, or change it's color :( Who
... Read More
14th July 2021 6:12am

RSS Alerts