Rotate JPEG Pictures Automatically with JPEG Picture Auto-Rotator

The problem: pictures in wrong orientation needs to be rotated.
You probably take a lot of pictures in portrait orientation with a digital camera, esp. when you take pictures of people indoors. However, when you view the pictures on the computer, the pictures are displayed in portrait mode. Normally, You would have to open the images in JPEG format in Windows Photo Viewer or some other photo editing software and then rotate the photos by 90 degrees either clockwise or counterclockwise. If you have a lot of pictures, it would be very painful to do the manual rotation work one by one. Have you ever wondered if this can be done automatically? The answer is YES and it doesn't take rocket science to do that.
JPEG Picture Auto-Rotator helps you rotate photos automatically.
The truth is, most modern digital cameras are already equipped with the correct sensor to detect if you are taking a portrait picture. When you take a portrait photo, the camera will store the correct orientation information into the EXIF header of the JPEG photo file. Any software can use the data stored into the EXIF header to rotate the picture back into the correct orientation. Therefore, we have created a free software named "JPEG Picture Auto-Rotator" to do this job automatically.
How to use JPEG Picture Auto-Rotator?
Download the zip file and unpack it. You will get an executable file named JPEGRotate.exe . There are two ways to use simply command line utility. The first way is to use it to rotate a single JPEG photo. The syntax is like this:
>JPEGRotate.exe photo_file_name
The second way is to auto-rotate all the JPEG picture files (*.jpg and *.jpeg) under the same folder recursively. The syntax is like this:
>JPEGRotate.exe folder_path
Here is a screenshot of JPEG Picture Auto-Rotator running in the console window: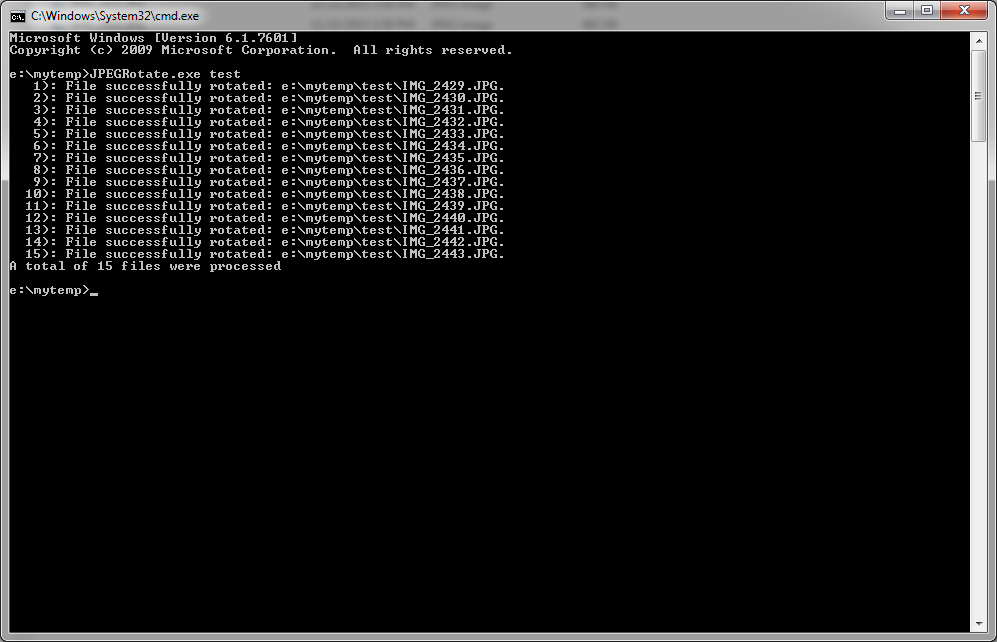 Operating System Requirements
Windows XP, Vista, 2003, Windows 7/8.
License
Free for personal and commercial use.
Want to upload photos faster?
By the way, if you are a fan of sharing pictures online and wonder if there is faster way to upload the pictures, the answer is YES! Check out the instant photo-uploading feature in our Slimjet product which can help you upload photos up to 20 times faster by automatically compressing the JPEG photo files before doing the upload.
comments powered by

Disqus