Customizable New Tab Page
In Slimjet, the New Tab page has been greatly enhanced to increase both flexibility and usability, compared with what's available in the Chrome browser. Here is the list of enhancement we've made to the Slimjet New Tab page,
Customizable rows and columns.
Customizable background color, image and video (indepedent from the currently-applied theme).
Semi-transparent quick-dial buttons when background image is applied.
Flexible options to put different types of links on a quick dial button

Pin a manually-specified URL
Automatically use a frequently used site
Pin a saved QuickFill form file
It lets you log into your favorite online account with a single click on a quick-dial button.
Pin a bookmark folder
It lets you open all the bookmarks under the folder with a single click on a quick-dial button.

Higher resolution thumbnail images
Quickly switch between multiple search engines from the search box.
Here is a screenshot of the New Tab page with background video enabled.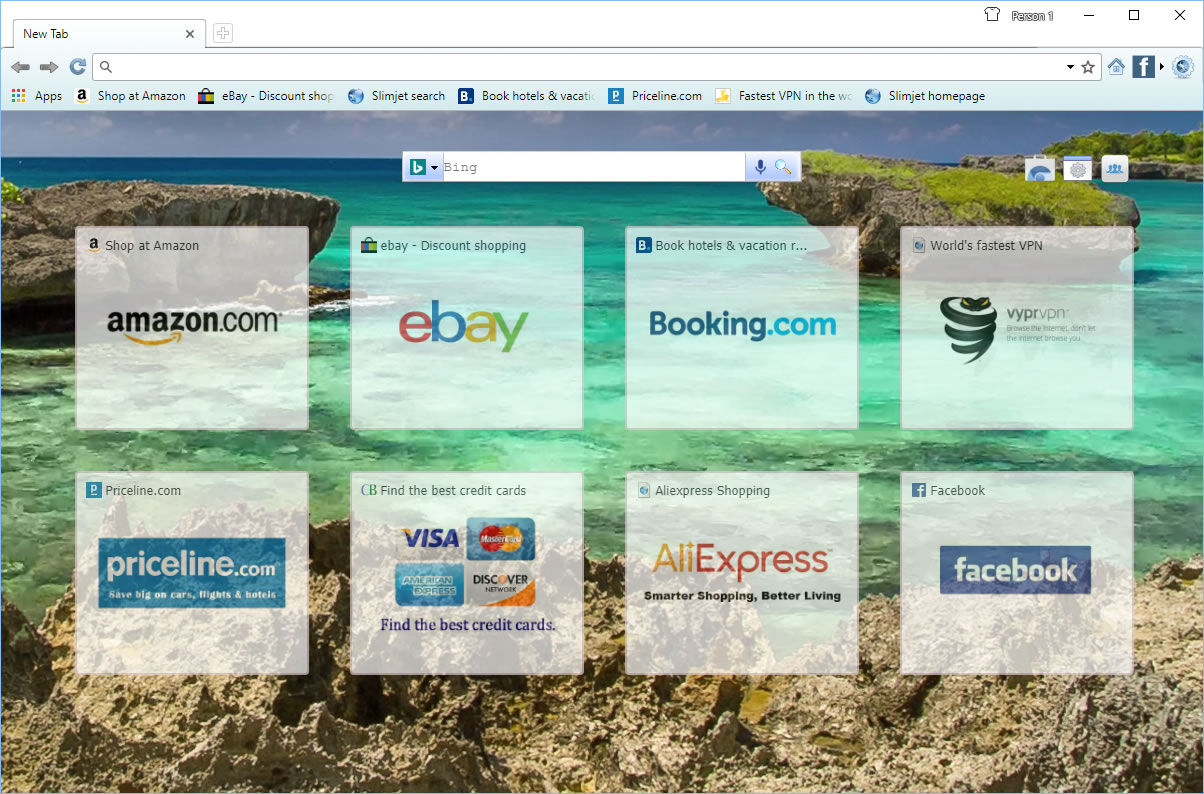 A large online video library is available for users to choose their own favorite background videos with beautiful scenery.
Here is a screenshot of the customization dialog in New Tab page,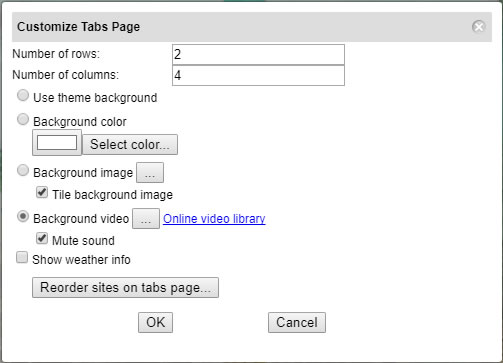 Here is the dialog which let users to define the link to put on each quick-dial button,

Add Comment
Comments
(9)
Peter
says...
I've lost all the thumbnail images on the Customize New Tabs page. I can refresh them from the selector in the thumbnail image, but the refreshed images disappear the next time I open the browser.
25th March 2018 4:53pm
Larry
says...
Need a good explanation please for How to open the dialog "Edit URL" box to define the link to put on each quick-dial button. I tried Steven Chang's "click the rightmost button on the right side of the search box in the new tab page". I do not have rightmost button that performs this action!
23rd March 2018 12:18pm
Stymie
says...
Open a new tab, then choose the 'Customize' button. It is the middle button between the 'World's fastest VPN' quickdial button and the address bar in the screenshot above. Directly under the Bookmark star button.
4th April 2018 9:30pm
omar
says...
very good
20th January 2018 9:19am
Alison
says...
Where is this customisation dialog button? No sign of it on my New Tab screen. All I have at top right is the pesky google menu (gmail, images, <grid>)
3rd December 2017 8:23am
Dale Leideker
says...
How does one remove a quick dial site from the new tabs page?
24th November 2017 9:03am
RentedDreams
says...
What if I want a blank new tab?? How do I remove all of these quick-dial buttons?I tried setting the row and column values to zero, then to 1.
Error msg says values have to be at least 2 and 2
16th July 2017 4:40pm
Lorgen GRM
says...
@RentedDreams
Maybe there's an addon that would allow you to do that for NEW TABS.
22nd September 2017 7:56am
Poorerman
says...
This is the easiest way. You should first customize the Slimjet New Tab page to your liking (eg. background video) because the tab Settings link on the subsequent new tabs will be hidden along with the quick-dial buttons. Edit the file "overlay.css" (using any text editor) that's found in the SlimJet/html/newtab subfolder. Simply copy and paste these 3 lines to the end of the file: table{ visibility:hidden; } Save the file, then open a new tab to see the results. Of course,
... Read More
5th November 2017 11:51am

RSS Alerts