How to Customize Chrome Toolbar
The navigation toolbar in Chrome has only a few fixed buttons, i.e., back/forward/reload/home. Google doesn't give users any options to customize the toolbar. You can't add or remove button, neither can you move the toolbar around. Although many users have voiced their request to be able to customize the toolbar, so far Google has stuck to their principle of minimalist design.
Slimjet is a free web browser based on the open-source Chromium project, on which Google Chrome is also based. Therefore, Slimjet looks and works very similar to Chrome. One of the main goals in Slimjet is to make Chromium more flexible and customizable. In Slimjet, the toolbar buttons are fully customizable. You can also move the toolbar buttons to the right side if you want.
Slimjet has added a lot of additional buttons to the navigation toolbar so that you can access different features easily and quickly. The visibile buttons on the toolbar are customizable so that you can keep only buttons you need to avoid wasting screen area. To customize the toolbar, click the arrow button at the right end of the toolbar and select "Customize toolbar..." from the popup menu as shown below,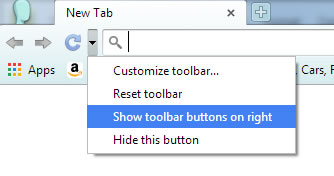 After that, you will see a dialog listing all the available toolbar buttons,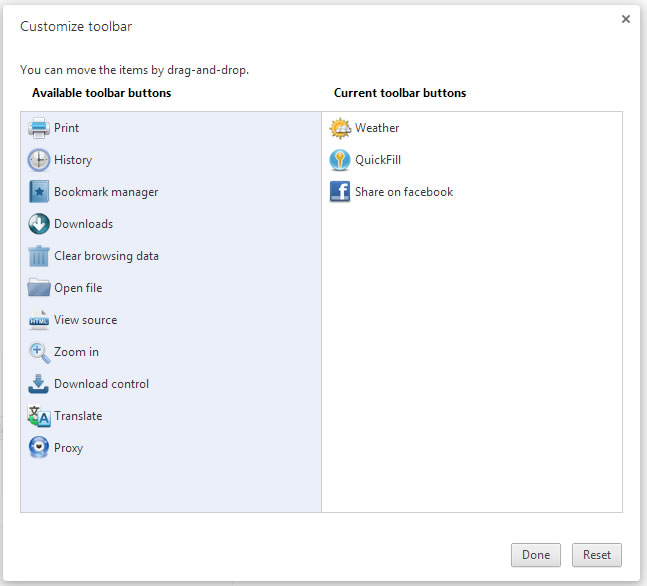 To add a button, drag a button from the left to right side. To remove a button, drag it from the right side to the left.
The toolbar buttons can also be placed on the right side or left side of the omnibox. To move it around, click the arrow button and select "Show toolbar buttons on left/right" from the menu. For example, here is a screenshot of toolbar buttons placed on the right side: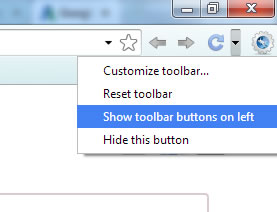 If you are not yet an existing Slimjet web browser user, Download Slimjet for FREE Now to start enjoying the "Customize Toolbar" feature and a lot more other powerful features available in Slimjet.
Add Comment
Comments
(3)
Topic
:
customize-chrome-toolbar.php
Bob
says...
What's the point of whether I can re-post numbers and what does it have to do with question about installing toolbar?
19th March 2017 9:53pm
Bob
says...
Happy with speed, rating could improve if I find a way to a toolbar with useful features. Thanks,Bob
19th March 2017 9:50pm
Bob
says...
Google user for years; refresh/reconfigure of five year old laptop (I know, needs replaced) which I had MSN homepage and Google toolbar fur features. Have not found a toolbar. Live in Belize, would like to listen on line music, news, sports while checking email.
19th March 2017 9:47pm

RSS Alerts