Fully Customizable Toolbar
The navigation toolbar in Chrome has only a few fixed buttons, i.e., back/forward/reload/home. Slimjet has added a lot of additional buttons to the navigation toolbar so that you can access different features easily and quickly. The visibile buttons on the toolbar are customizable so that you can keep only buttons you need to avoid wasting screen area. To customize the toolbar, click the arrow button at the right end of the toolbar and select "Customize toolbar..." from the popup menu as shown below,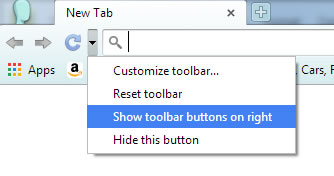 After that, you will see a dialog listing all the available toolbar buttons,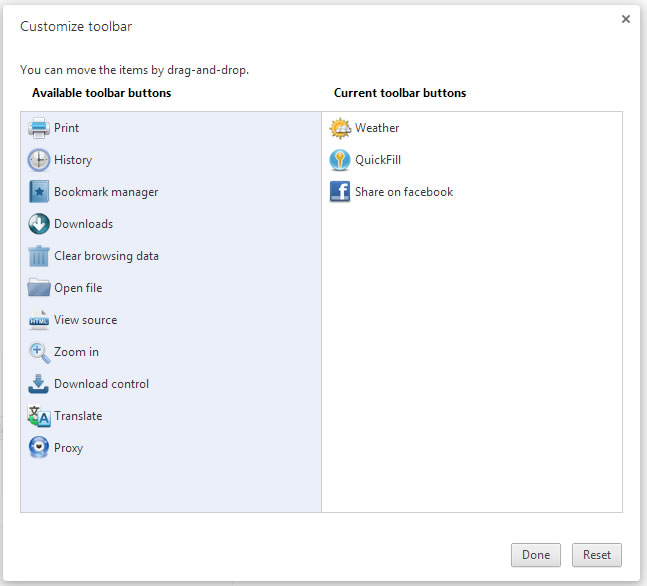 To add a button, drag a button from the left to right side. To remove a button, drag it from the right side to the left.
The toolbar buttons can also be placed on the right side or left side of the omnibox. To move it around, click the arrow button and select "Show toolbar buttons on left/right" from the menu. For example, here is a screenshot of toolbar buttons placed on the right side: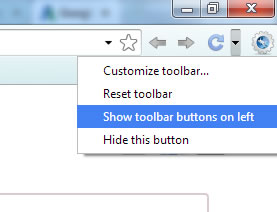 Add Comment
Comments
(2)
Topic
:
customizable-toolbar.php
Eric
says...
I accidentally clicked hide this button. Now I am stuck with everything the way it is and cannot remove the moronic ebay butrton I will never use. Going to remove this because of it.
10th July 2021 11:21pm
Heath
says...
I now have a password manager icon on my toolbar when I am on Facebook. Didn't ask for it, no way to remove, have no use for it. This is why I got rid of Chrome to use Slimjet! Come on guys- if you claim the toolbar is "fully customisable" then make it so and give users full control!
3rd July 2021 4:53pm

RSS Alerts