Fully Customizable Toolbar
The navigation toolbar in Chrome has only a few fixed buttons, i.e., back/forward/reload/home. Slimjet has added a lot of additional buttons to the navigation toolbar so that you can access different features easily and quickly. The visibile buttons on the toolbar are customizable so that you can keep only buttons you need to avoid wasting screen area. To customize the toolbar, click the arrow button at the right end of the toolbar and select "Customize toolbar..." from the popup menu as shown below,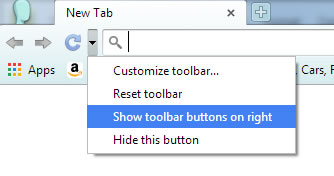 After that, you will see a dialog listing all the available toolbar buttons,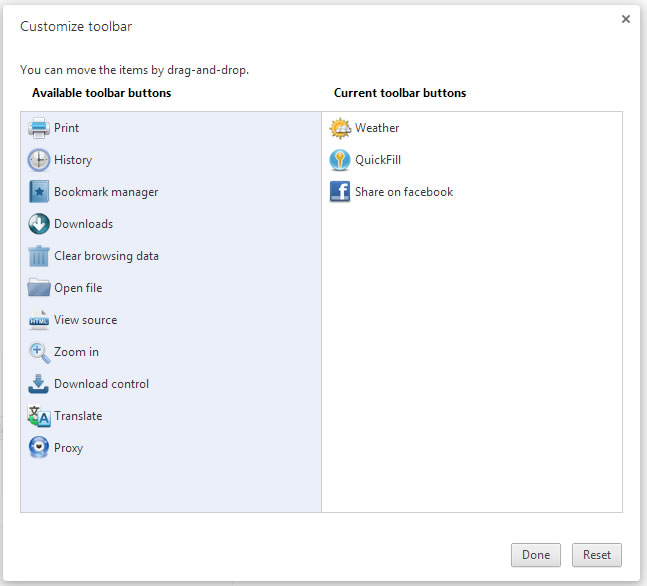 To add a button, drag a button from the left to right side. To remove a button, drag it from the right side to the left.
The toolbar buttons can also be placed on the right side or left side of the omnibox. To move it around, click the arrow button and select "Show toolbar buttons on left/right" from the menu. For example, here is a screenshot of toolbar buttons placed on the right side: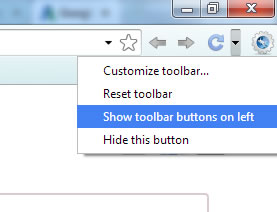 Add Comment
Comments
(15)
Topic
:
customizable-toolbar.php
Ken Taylor
says...
I've installed this on all my systems. Keep going, it's brilliant.
I'd like to lock the toolbar so that buttons cannot appear automatically after visiting a site (eg Amazon etc )
8th January 2018 2:26pm
Сергей .
says...
Отличный браузер для линукс. Особенно у тех у кого он расположен на ssd диске и кто пользуется RAM диском кэш в настройках браузера легко расположить на RAMдиске. Прекрасно по этой причине и подойдет для WINDOWS
6th January 2018 8:30am
Thomas McMurphy
says...
I am a slow learner, but I feel so much better that I found your browser
31st December 2017 4:14pm
Kathy
says...
The button is to the right of the address bar. Took me a while. Also the button points to the right before you click it. I was looking for an arrow pointing down.
19th December 2017 8:14am
basim
says...
نشكركم على مجهودكم الرائع لبناء متصفح sllmjet جميل المضهر ذو مميزات رائعه مرن في التعامل يمكن تنصيبه ويعتبر الافتراضي ولا نحتاج لاي متصفح ثاني لانه يفي بالغرضوفيه كل المميزات وشكرا وارجو لكم التوفيق
7th November 2017 4:01am
basim
says...
شكرا للمجهود الذي تقومون به لجعل متصفح sllmjet اكثر فعاليه ومرن الاستخدام ذات مواصفات عاليه التقنيه جميل جدا اعجبني كثيرا ارجو لكم التوفيق
7th November 2017 3:47am
smilwave
says...
this browser is so perfect, i love it .
30th October 2017 4:11pm
guitard
says...
erreur de fonctionnement
23rd August 2017 4:03am
walt b
says...
GREAT and excellent!!I believe in "ABC":
Accurate
Brief
ClearSo back to programming...walt b
28th July 2017 2:40pm
Sheila NoName
says...
What arrow?? There's no arrow anywhere on the top of my page, let alone at end of toolbar.
3rd May 2017 4:10pm
Angelina
says...
Your browser is incredibly fast. I have the latest updates to Firefox and during this last update my computer ran very slowly. My technician ran the speed test and said it was the browser not my computer. And he suggested another browser. So I went to Opera which is also pretty fast. But I don't like the fact that they have removed their menu bar and their toolbar for copy edit paste all of that. it's done manually with the keyboard shortcuts and for someone who dictates a lot and uses
... Read More
20th March 2017 11:15am
eddyivester
says...
i like slimjet
3rd February 2017 9:45pm
JJ Thomas
says...
Google chose to eliminate the Menu Bar at the top of their browser (and place all that functionality in the triple line icon on the right). Many people have requested the option to re-enable a top line menu bar rather than the right hand icon. This is for many reasons, but looking over feedback it seems that mostly it is just that some people are comfortable with that (please see this thread - productforums (dot) google (dot) com / forum / #!topic / chrome / TfCIsMvQTXY ) Interestingly the
... Read More
29th January 2017 5:10pm
Mar
says...
can arrange icons - open the window for selecting icons on toolbar - then the right side - grab a mouse and move up and down places icons
19th January 2017 8:50pm
Mar
says...
**************************************
to move the toolbar icons in the left side - open the Settings -> Remove checkmark in front ,,Show tool bar buttons on the right side of omnibox''
__________________________________________
To Display arrow next to the icon in tool bar - enter the settings, add check to ,,Show arrow button at the end of the toolbar''
*******************************************
19th January 2017 8:29pm

RSS Alerts