Fully Customizable Toolbar
The navigation toolbar in Chrome has only a few fixed buttons, i.e., back/forward/reload/home. Slimjet has added a lot of additional buttons to the navigation toolbar so that you can access different features easily and quickly. The visibile buttons on the toolbar are customizable so that you can keep only buttons you need to avoid wasting screen area. To customize the toolbar, click the arrow button at the right end of the toolbar and select "Customize toolbar..." from the popup menu as shown below,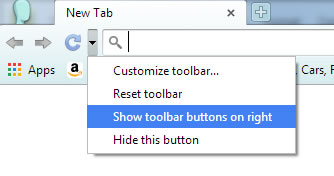 After that, you will see a dialog listing all the available toolbar buttons,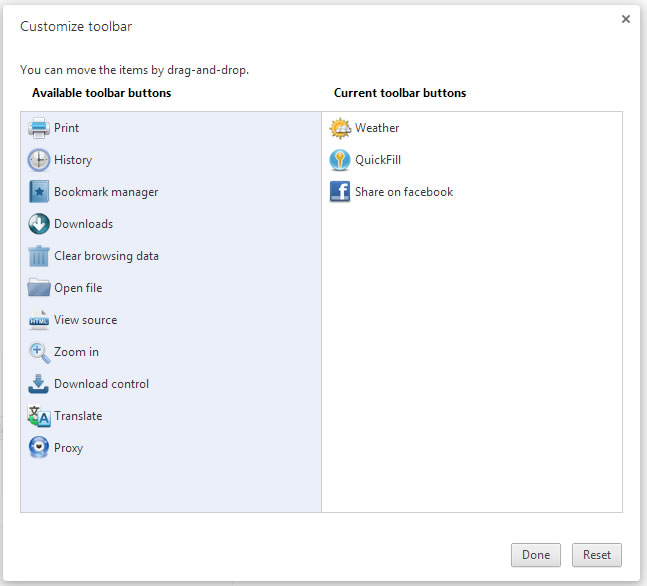 To add a button, drag a button from the left to right side. To remove a button, drag it from the right side to the left.
The toolbar buttons can also be placed on the right side or left side of the omnibox. To move it around, click the arrow button and select "Show toolbar buttons on left/right" from the menu. For example, here is a screenshot of toolbar buttons placed on the right side: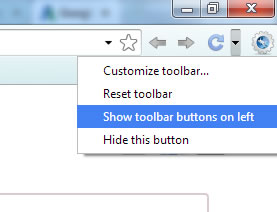 Add Comment
Comments
(29)
Topic
:
customizable-toolbar.php
Sheila NoName
says...
What arrow?? There's no arrow anywhere on the top of my page, let alone at end of toolbar.
3rd May 2017 4:10pm
Angelina
says...
Your browser is incredibly fast. I have the latest updates to Firefox and during this last update my computer ran very slowly. My technician ran the speed test and said it was the browser not my computer. And he suggested another browser. So I went to Opera which is also pretty fast. But I don't like the fact that they have removed their menu bar and their toolbar for copy edit paste all of that. it's done manually with the keyboard shortcuts and for someone who dictates a lot and uses
... Read More
20th March 2017 11:15am
eddyivester
says...
i like slimjet
3rd February 2017 9:45pm
JJ Thomas
says...
Google chose to eliminate the Menu Bar at the top of their browser (and place all that functionality in the triple line icon on the right). Many people have requested the option to re-enable a top line menu bar rather than the right hand icon. This is for many reasons, but looking over feedback it seems that mostly it is just that some people are comfortable with that (please see this thread - productforums (dot) google (dot) com / forum / #!topic / chrome / TfCIsMvQTXY ) Interestingly the
... Read More
29th January 2017 5:10pm
Mar
says...
can arrange icons - open the window for selecting icons on toolbar - then the right side - grab a mouse and move up and down places icons
19th January 2017 8:50pm
Mar
says...
**************************************
to move the toolbar icons in the left side - open the Settings -> Remove checkmark in front ,,Show tool bar buttons on the right side of omnibox''
__________________________________________
To Display arrow next to the icon in tool bar - enter the settings, add check to ,,Show arrow button at the end of the toolbar''
*******************************************
19th January 2017 8:29pm
Marc
says...
Firefox browser has been set way behind now. And only 2 browsers are competing on my Nix box. So Bravo guys for this surprising kick off. Keep it up !
12th January 2017 4:48am
علي كاطع ظاهر
says...
رائع جدا جدا جدا
6th January 2017 3:53am
Imdad Ullah
says...
My best Browser is slimjet
31st December 2016 11:08pm
Jamini
says...
Slimjet is definitely faster than Google Chrome, Firefox, Vivaldi .. Noticed 1 crash, the browser simply closed itself while I was still checking a secure link (bank). It's good & I will recommend others to try out this browser.
17th December 2016 9:46am
BelaBela
says...
How to we get more BUTTONS (OPTIONS) on the top TOOLBAR--like DELETE COOKIES WITH ONE CLICK, TOGGLE IMAGES OFF/ON, TOGGLE COOKIES OFF/ON, TOGGLE JAVASCRIPT OFF/ON, ETC. We just started using Slimjet today and are a bit "lost" without the wonderful PREF BAR that is available in most other browsers. Can Slimjet please ADD a "PREF BAR" such as described above? It's too much work to drill down into menus and the buttons/options currently offered are way too limited. We
... Read More
4th December 2016 9:01am
BelaBela
says...
Correction: First sentence should read "How DO"... :-)Also (forgot) would like to be able to rearrange the ORDER of the Toolbar Buttons.
4th December 2016 9:07am
Mar
says...
Bela Bela, You can arrange icons - open the window for selecting icons on toolbar - then the right side - grab a mouse and move up and down places icons
19th January 2017 8:41pm
alfaris
says...
متميز جدا شكرا
22nd November 2016 4:05am
Richard
says...
i like it
15th November 2016 4:09am
Richard
says...
not sure yet
15th November 2016 4:07am
Ron White
says...
What arrow on the right end of the toolbar? I don't have one there.
22nd October 2016 7:56pm
Algy
says...
How to move the MENU button to the LEFT (where it should be!)?
If it's not possible Slimjet gets deleted!
25th September 2016 3:31am
edmon
says...
otimo
5th September 2016 4:12pm
guest
says...
"save page as" (=Ctrl+S) button is missing
1st September 2016 12:34pm
emilio
says...
muy bueno
19th August 2016 11:42am
madjid
says...
pour moi c'est le meilleur navigateur actuel avec ces options
22nd July 2016 7:11pm
Al Sheeber
says...
On the version that I have there is no " arrow button at the right end of the toolbar " to click on, I have endless problems to pin bookmarks, to the left column, where I want them to remain, therefore, I am limited to what i can do and cannot use this browser as my main operational browser, but as a spare, a back up....
13th July 2016 10:37am
Aristides
says...
Só não gostei de uma coisa nesse navegador. Transferi os Favoritos do Google Chrome e aparecem para mim, mas todos brancos. Não mostram coloridos e fica difícil procurar só pelo nome de cada favorito sem a imagem.
9th July 2016 12:28pm
jim
says...
THE MOST IMPORTANT BUTTON I NEED IS NEW WINDOW.Yes, while browsing, I read something and want to search for a new topic, while leaving the current web page open.Besides home, this is the second most important button I need. Third is copy (text like address I copy and save in a file, etc.)
8th July 2016 9:38pm
ScottFree
says...
In the menu button (upper right geartooth circle) offers a 'new window' option. You can also use 'ctrl n' keyboard option. I use slimjet 10+ on an old 32bit WinXP machine, so your results may differ. Hope this helps
24th July 2016 10:28am
BelaBela
says...
Opera used to have a RIGHT-CLICK to OPEN NEW WINDOW which was nice. (For some reason, the Ctrl-N doesn't always work on Slimjet.) It would be nice to have a BUTTON on the Toolbar to Open a new WINDOW. In fact, I'd love to have ONLY WINDOWS and NO TABS at all. Have never got used to tabs and don't like 'em. :) They tend to pile up and confuse whereas windows line in most browsers line up neatly at bottom of screen.
4th December 2016 9:11am
SCOTT SWAIN
says...
I do not see an arrow at the end all I see is the arrow at the edge of my bookmarks which goes to more bookmarks on my bookmark toolbar
3rd July 2016 4:42am
NJ.Dawood
says...
I'd add my comment to those from people who commented about poor readability of faint/light-coloured text on text white backgrounds. It's ergonomically bad practice. Makes it difficult to read writing that has a low contrast with the background.
Black on white is too glary, but black on light grey or pale mustard yellow (not bright yellow) is much better.
1st July 2016 10:41pm

RSS Alerts