Fully Customizable Toolbar
The navigation toolbar in Chrome has only a few fixed buttons, i.e., back/forward/reload/home. Slimjet has added a lot of additional buttons to the navigation toolbar so that you can access different features easily and quickly. The visibile buttons on the toolbar are customizable so that you can keep only buttons you need to avoid wasting screen area. To customize the toolbar, click the arrow button at the right end of the toolbar and select "Customize toolbar..." from the popup menu as shown below,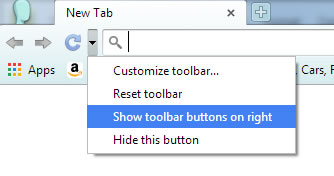 After that, you will see a dialog listing all the available toolbar buttons,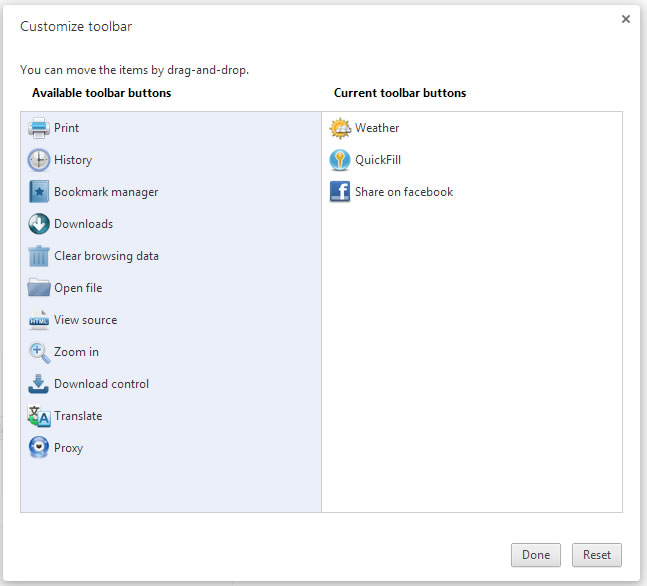 To add a button, drag a button from the left to right side. To remove a button, drag it from the right side to the left.
The toolbar buttons can also be placed on the right side or left side of the omnibox. To move it around, click the arrow button and select "Show toolbar buttons on left/right" from the menu. For example, here is a screenshot of toolbar buttons placed on the right side: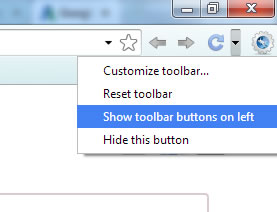 Add Comment
Comments
(2)
Topic
:
customizable-toolbar.php
Valer
says...
"Нажмите кнопку [>] справа от значков на панели инструментов"..
И где эта кнопка. ее не видно.
Кроме того, браузер часто вылетает с потерей все открытых закладок и истории. Без возможности восстановить. А каждый раз сохранять закладки в html файлах (при том, что не все потом будут нужны....
Мой приятель уже перешёл в другой браузер. Я уже подумываю
20th August 2023 11:15am
Dick
says...
I would like to see the ability to rearrange individual buttons on the toolbar, as it is in Firefox.
3rd October 2022 6:47pm

RSS Alerts