Fully Customizable Toolbar
The navigation toolbar in Chrome has only a few fixed buttons, i.e., back/forward/reload/home. Slimjet has added a lot of additional buttons to the navigation toolbar so that you can access different features easily and quickly. The visibile buttons on the toolbar are customizable so that you can keep only buttons you need to avoid wasting screen area. To customize the toolbar, click the arrow button at the right end of the toolbar and select "Customize toolbar..." from the popup menu as shown below,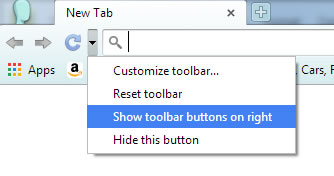 After that, you will see a dialog listing all the available toolbar buttons,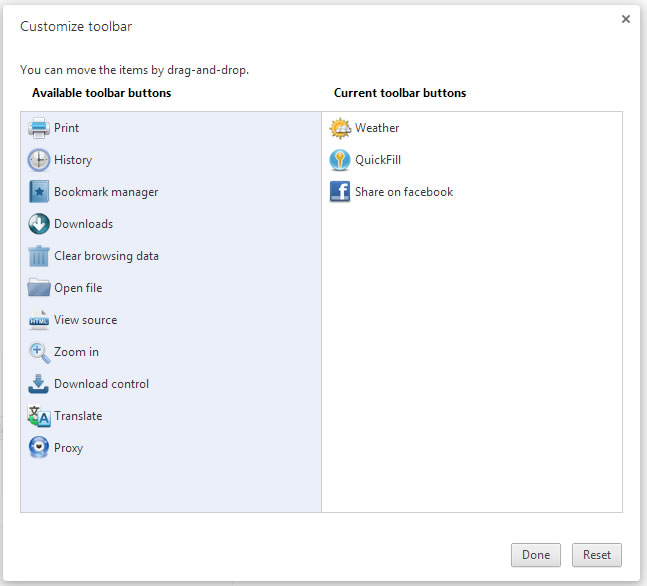 To add a button, drag a button from the left to right side. To remove a button, drag it from the right side to the left.
The toolbar buttons can also be placed on the right side or left side of the omnibox. To move it around, click the arrow button and select "Show toolbar buttons on left/right" from the menu. For example, here is a screenshot of toolbar buttons placed on the right side: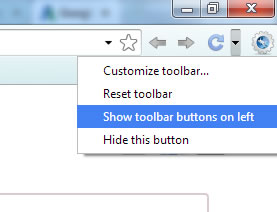 Add Comment
Comments
(10)
Topic
:
customizable-toolbar.php
ahmednour
says...
ممتاز أفضل متصفح
17th January 2019 4:06pm
Alexander
says...
Excellent except that there aren't " the arrow button at the right end of the toolbar "!
3rd December 2018 6:27pm
Cpl. Rahne Cooper
says...
Pretty good new Chrome-based browser. Keep up the good work, dudes 'n chics; i can't imagine how to improve it. Sincerely,
Rahne(o:
Christian Rescue Army Network
Pet Theories, Incorporated
King's kourt jester-kopz, a.k.a. Kkjk, ok?
29th October 2018 4:04pm
SEO Conslt Ricky Google
says...
I am getting rid of SLIMJET OFF WINDOWS 10 today WIN 10 is the WORST TOO BAD COMBO want my XP back Bill Gates u need to retire SPEND HALF AN HOUR ON GOOGLE SEARCH RESERACHING HOW THE HELL TO GET ME LAST PASS ICON TO SHOW UP I AM GOING BACK TO OPERA CHOME MEMORY FOOTPRINT BLOATED OVERHILL GETS GET BACK TO THE 90s FOR A WEB BROWSER FOLKS DOT COM ERA GET WORK DONE BROWSE ET AL ALL NEWER BROWERS COMPETIGN WITH EACH OTHER AS AN OS OPERATING SYSTEM TO IT ON THE FREAKJING PHONES APPS FOR GODS SAKE
... Read More
20th September 2018 1:34pm
Стас
says...
Тебя нельзя выпускать в интернет! Безруким алкашам здесь не место !
5th January 2019 3:02am
Jon
says...
How do I get the "Customize toolbar" button BACK? Hello. Love Slimjet, set as default browser, UNTIL "facebook" replaced the "Customize toolbar" button, and NOW I can't get rid of "facebook" button NOR replace the "customize toolbar" button. I tried "RESET" and still the unwanted "facebook" button and still NO "Customize" button back. So now I have lost my "THEME" and my other "toolbar"
... Read More
19th August 2018 3:14pm
Cesar
says...
Slimjet is the best browser, fast and stable, more than my previews browser, Chrome.
25th July 2018 7:32am
Michael
says...
Hi there,
How do i remove the bar tha appears across bottom after downloading a file?
I'd rather have a display on the taskbar..
Thankyou
11th March 2018 10:30pm
Ron van der Nagel
says...
I would like the home button on the left of the adress box (omnibox?)
17th February 2018 2:27am
abdallh
says...
https://www.slimjet.com/commentics/images/bb_code/image.png
4th February 2018 10:30am

RSS Alerts