Fully Customizable Toolbar
The navigation toolbar in Chrome has only a few fixed buttons, i.e., back/forward/reload/home. Slimjet has added a lot of additional buttons to the navigation toolbar so that you can access different features easily and quickly. The visibile buttons on the toolbar are customizable so that you can keep only buttons you need to avoid wasting screen area. To customize the toolbar, click the arrow button at the right end of the toolbar and select "Customize toolbar..." from the popup menu as shown below,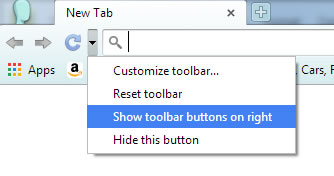 After that, you will see a dialog listing all the available toolbar buttons,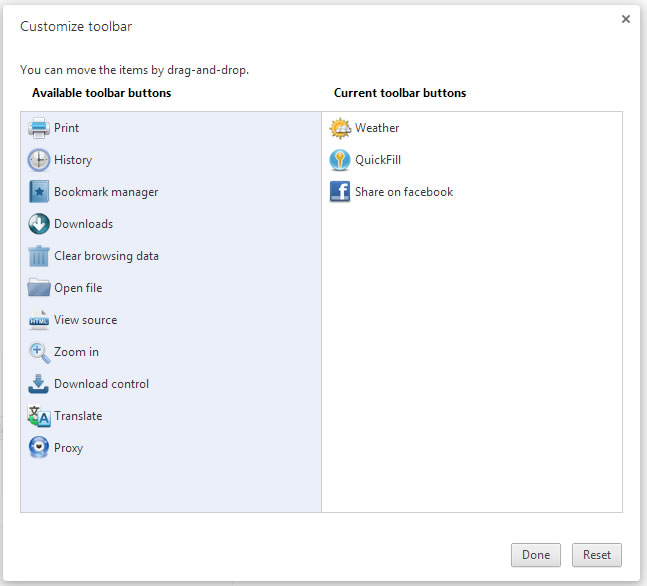 To add a button, drag a button from the left to right side. To remove a button, drag it from the right side to the left.
The toolbar buttons can also be placed on the right side or left side of the omnibox. To move it around, click the arrow button and select "Show toolbar buttons on left/right" from the menu. For example, here is a screenshot of toolbar buttons placed on the right side: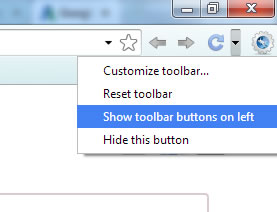 Add Comment
Comments
(9)
Topic
:
customizable-toolbar.php
حاتم توفيق
says...
( برجاء معالجة مشكلة بالفيس بوك فقط ( عذرًا، نواجه مشكلة في تشغيل هذا الفيديو.... مع خالص تحياتي لفريق العمل
2nd April 2021 5:05pm
بلال بختي
says...
very good
27th February 2021 12:27pm
بلال بختي
says...
لأول مرة أستخدم متصفحSlimjet هو متصفح متميز سريع وخفيف، أتمنى أن يكون أفضل
27th February 2021 12:25pm
larry
says...
why can't you move individual icons / toolbar buttons when you want them -- like to move ad blocker icon to rt of search bar
20th January 2021 9:39pm
Ольга Булгакова
says...
Как найти друга?
27th December 2020 11:42pm
Ольга Булгакова
says...
Как найти друга,который уже есть?
27th December 2020 11:40pm
r mac
says...
this doesn't work. buttons can't be dragged.
7th November 2020 8:09am
Ben Sansing
says...
my first time to use slimjet browser
25th September 2020 5:37am
Arash
says...
Where is the arrow button? No button bro
19th August 2020 10:50am

RSS Alerts