How to download dailymotion video
Downloading dailymotion video is very easy in Slimjet. Whenever you see a video in your new stream, click on the video so that the video is enlarged and brought out to the front. After the video is being played in an enlarged state, you will see a blue download video button shown at the right end of the address box as shown below,

Click that button to initiate the video download process. If there is a single format available, you will get a download confirmation dialog to start the video downloading proess with the turbo-charged download manager immediately. If multiple formats are available, you will be shown a dialog for you to choose between multiple resolutions.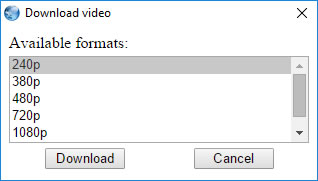 Select the format you want and click the Download button to start downloading the video using turbocharged download manager.
If you are not yet an existing Slimjet web browser user, Download Slimjet for FREE Now to start enjoying the "Download dailymotion Video" feature and a lot more other powerful features available in Slimjet.