Show Cash Flow Information on Redfin in Slimjet Browser
Why are we doing this?
We think redfin is the best real estate listing site due to the accuracy and minimum delay of its data. Compared with redfin, the listings on zillow is often out-dated. Therefore, we believe redfin is the best place to go for real estate investors for whom update-to-date data is critical. However, one important drawback of redfin is that it doesn't have estimate information for rent and payments. More than 50% of its listings don't have price estimate either. Therefore, we have designed this feature to add more information and analysis onto the redfin site so that investors like you can decide quickly if you should make an offer and what the offer should be without digging information from various sources.
Purchase this feature
This feature only works inside Slimjet browser. If you haven't downloaded Slimjet yet, please download it from here. Slimjet is free but this is a premium feature in Slimjet that you need pay for in order to use it. If you haven't paid for the feature yet, please click the following button to do so,

How to unlock this feature
After paying for the feature, you can use the unlock code you've received to unlock the feature in Slimjet. To unlock this feature, click the menu button on the right end of the toolbar and select "Settings" from the main menu. After that, scroll down to the "Premium feature" section of the settings page. Locate the option "Show cash flow analysis on redfin.com" and then click the "Unlock" button to the right of the option. In the following dialog, enter your purchase email and unlock code from your order confirmation email as shown below,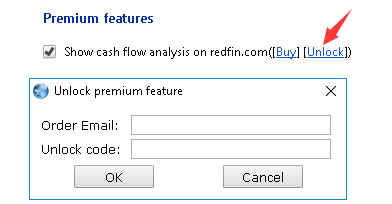 After the feature is unlocked successfully, please also ensure the option "Show cash flow analysis on redfin.com" is turned on.
How does it work?
After this feature is enabled, just browse any property listing on redfin.com. You should see a round blue icon on the left side of the listing price on the top of the page as shown below,

Clicking the blue icon and you will see a brief cash flow analysis with estimates of rent, market price and payment information for the listed property,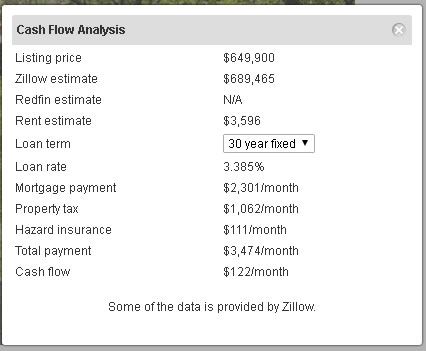 You can choose between different loan terms and the payment information will be automatically updated.